Welcome to TurbochargersByHolset.com your resource for new and rebuilt Holset/Cummins turbo's.
Diamond Diesel and Turbo Service is an authorized Holset Turbocharger Distributor.  We are also a Diesel Fuel Injection shop authorized for all major Diesel Fuel Injection manufacturers.  In the course of business we often pickup  Holset Turbos from companys going out of business, have surplus Holset Turbo  inventory, or get deals from Holset themselves.  The intent of this site is to try and match the turbocharger with the end user that has the application which requires this turbocharger. All Turbochargers listed on this site are genuine Holset Turbochargers.  We do not sell Holset knockoffs.  If there is a rebuilt Turbocharger listed on this site, it is a remanufactered Holset Turbocharger and carries the same warranty as a brand new turbocharger.  We will also be providing the latest in Holset turbocharger news.
We are filtering the turbochargers by the engine manufacturer that the Holset turbocharger was designed to fit on.  Diamond Diesel Service only sells aftermarket replacement turbochargers.  We do NOT do retrofit engines that were not originally turbocharged and we do not sell designs or plans for doing so.
Use the search box above to find the Holset/Cummins Turbo that meets your needs. Search by model number, engine manufacturer, engine model or year. All turbochargers are available for sale.
Diamond Diesel and Turbo Service only deals in original Holset/Cummins Turbos.
Do not get fooled by counterfeit turbochargers.
Look for the Holset Dataplate as shown below: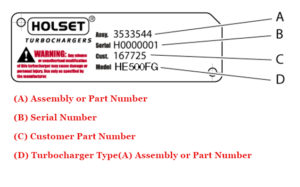 Video demonstrating the dangers of dealing with counterfeit Turbos:
Although there are a number of terms in the turbocharger marketplace that fall under the description of non-genuine, it is counterfeit product that proposes the biggest risk to the market, our Authorised Holset Distributors and your customers. A counterfeit product is a fraudulent imitation of a genuine product; designed to deceive the end-user by using identical packaging, logos, trademarks and labels. Counterfeit turbochargers are a growing problem and are believed to have started in China but we are now seeing evidence of counterfeit activity worldwide.
Why is Counterfeit a problem for Cummins Turbo Technologies and our Distributors?
Damaging to our brand name
Loss of market share
'Unfair' competition.
Why is Counterfeit a problem for the end-user?
Counterfeit turbochargers do not undergo the same rigorous testing as Holset Turbochargers

Counterfeit turbochargers are not made from premium materials designed to sustain the harsh temperatures and environments turbochargers face

Counterfeit turbochargers are not matched to the engine to maximise performance

This results in poor fuel economy, significantly reduced turbocharger life and ultimately in some cases, personal safety can be at risk.
What to do if you suspect counterfeit activity?
Cummins Turbo Technologies are serious about combating counterfeit activity and work closely with a specialist intellectual property (IP) lawyer firm. Through this collaboration we are monitoring the marketplace to take action against IP infringements and suspected counterfeit activity.
If you come across any trademark infringements or counterfeit activity that involves the Holset Turbochargers brand or Cummins Turbo Technologies' name, please contact your account manager or email turbomarketing@cummins.com(link sends e-mail) outlining the details including dataplate information, pictures of the product and invoice. The case will then be reviewed and a decision on appropriate action for Cummins Turbo Technologies to take will be made.